KIRUHURA HOSTS THE BISHOP OF NORTH ANKOLE DIOCESE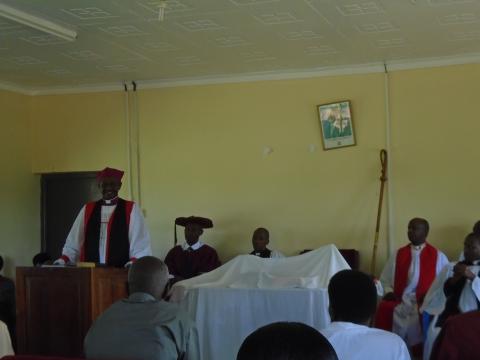 The Bishop of North Ankole Diocese, the Right Rev. Stephen Namanya spent the whole of Thursday 11th May, 2016 with the entire Kiruhura District staff celebrating the district embracement of the Christianity. The Right Rev. Namanya Stephen started a Chapel at the District in 2010 when he was the Head of Kashwa Archdeaconry before elected a Bishop.
The Bishop told district staff to always spare time to share experiences with God in form of fellowship if they were to excel in their careers. "A re-treat is not cowardice but rather time to plan for the next approach and relax one's mind", Bishop Assured the Christianity.
The function took place at the district in the District Chapel Hall. It attracted the Chief Administrative Officer, the District Chairperson, Resident District Commissioner, heads of department and other staff.